"Some of the gongs are not ready to be finished. Gongs are like this – they decide when the time is right," said Broder Oetken, gongbuilder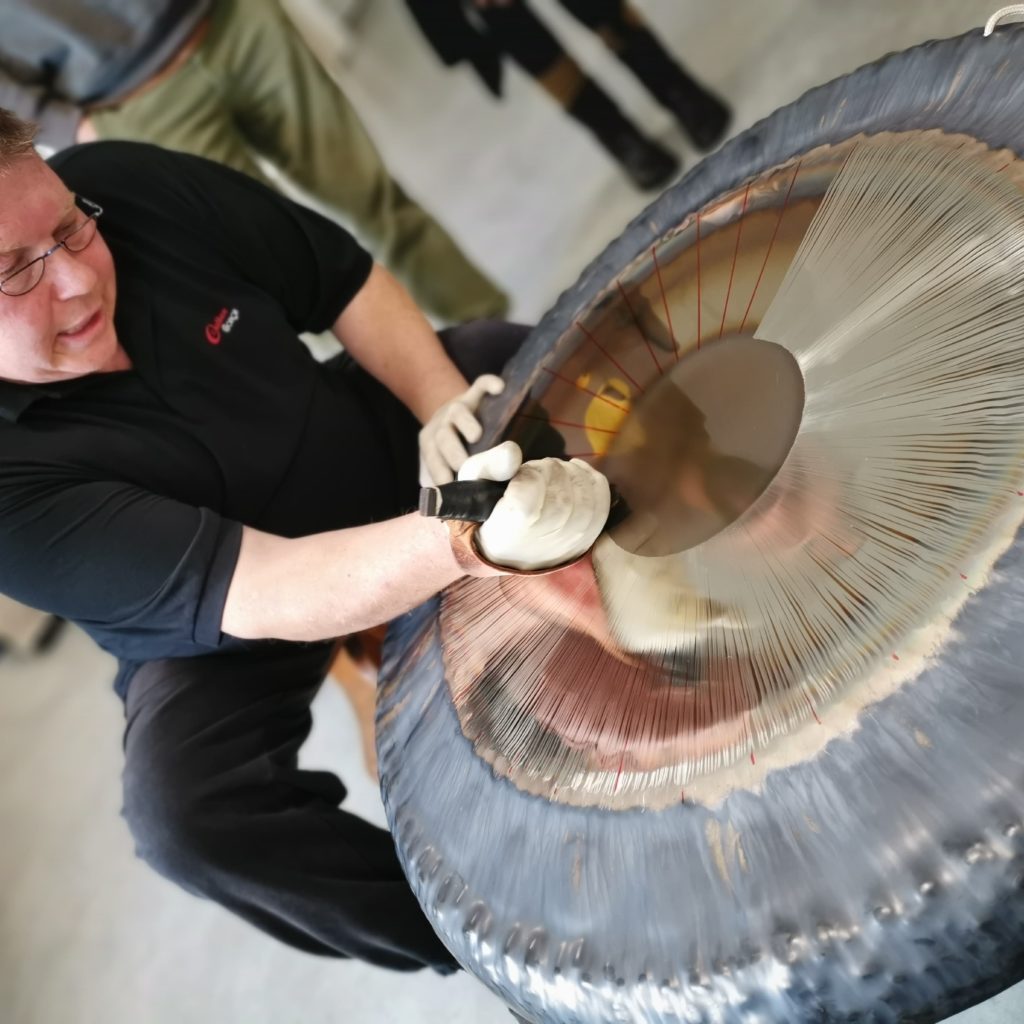 If you are a gong lover, this article is for you. If you have no idea what gong is, this interview is also for you. If you don't know Broder Oetken, this article is also for you, because Broder is one of the best gongbuilder of the gongs on the planet.
We at Sound Healing Slovakia also play Oetken gongs. We cooperate in the sale and distribution of gongs for the Slovak market. In addition to quality and professionalism, I value the heart of a complete brand. Broder and his team miss him. The Oetken Factory is based in the north of Germany and is run by Broder and his wife Ines.
The first gong that Broder made was a symphonic gong, which was created with the help of his master Walter Meyer, in 2001.
A lot has changed since then. Gifted Broder has become an icon in gongbuilding on planet Earth.
In your very beginnings it was whole different story, about building and selling gongs, then now. What has changed from your point of view?  
In my beginning I was employeer at Paiste, so I wasn't involved in the sales. In my selfemployed time, my feeling is that more and more people are interested in the sounds of gongs. Maybe it is more common than in earlier times.
What is the worst (or most challenging) part of building the gong for you?
That always depends on the gong. Some of them are not ready to be finished. Gongs are like this – they decide when the time is right 😊
What is your most favorite part?
To lay down and enjoy when you play the gongs 😊
People in general cant really imagine how the gongs are built. It s very hard job. what is more important- to have great ears, or superpower like a Thor with his hammer:) or patience, or all together?:)
In general you have to be able to work very precise and you have to enjoy hard work.
I guess it is easier to teach a worker how to listen to the gongs and whats important in the sounds than a musicians with perfect ears to work hard 😊
Im glad to offer your gongs couple of years already. Many students of our Sound Healing Academy has a gong from your factory. Was it a part of your dream to expand to the whole Europe, and worldwide?
I'm happy that people around the world love our gongs. And I'm really grateful that I'm a personal contact to lots of them. So for me it is so important to manufacture the gongs and not mass produce them.
Which country is buying gongs the most?
Before the Pandemic is was UK, now it is – beside Germany – China, Spain and USA.
How hard is to become a gong builder? How long it takes?
Hard is relative 😊 It takes about 5 year before you can build a gong completely on your own. But I still learn every day.
You are offering many kinds of a gongs nowadays. How many types you are producing?
There are Symphonic Gongs, Planetary gongs and Sound Creation Gongs.
What gong means to you?
I love to build them but I also love to listen to them.
You probably love metal:) How many kilos of metal went through your hands during your gongbuilder career?
Thats a very good question- I don't know 😊
Our last masterpiece from your factory is a magical and huge water gong 60"inch. It s the only one piece in Slovakia in this size. Everyone is so impressed when looking at her. It s very powerful and also very gentle   essence and frequencies. It was your favorite gong…
We still miss her but we are glad to know she is with you!
The water gong doesnt have exact tuning of a tone&frequency. Can you explain shortly why some gongs are having their own fundamental frequency, and some doesnt? And what is the difference during the building proces?
For the planetary gong the frequency is important- but also the harmonics around. The Sound creation gongs have a soundpicture which they have to conform to. The frequency is here not interesting. The watergong is a Sound Creation gong.
Is very important to have a great&right tuning of a gong. Wrong tuning might have a wrong impact on our body&health. Can you explain it to our readers?
From my point of view I have to care for the frequency on one hand and on the other hand for harmonics around this. To offer a "round" sound without any whistles to heavy Wah-Wah-Effects and a stable sound. I offer just the instrument for the work of the player.
You are working together. Who is more visionary? Ines or Broder?:)
For new gongs sometimes Ines has new ideas or we both talk about interesting gongs and then I  try how it is possible to realize in the gongs.
What are your visions/dreams to the next let s say 5 years?
To stay healthy and happy and continue to enjoy working
Thank you very much❤️
You are welcome! And we are happy to be connected in this wonderful way.